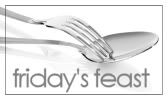 Appetizer
If you could live on another continent for 1 year, which one would you choose? Australia, I think!

Soup
Which browser do you use to surf the Internet? Firefox

Salad
On a scale of 1-10 (with 10 being highest), how much do you know about the history of your country? 8.5 - I worked in a historical museum for 10 years

Main Course
Finish this sentence: Love is… all you need (how could I answer any other way?)

Dessert
Have you ever been in or near a tornado? Yes, we live in a high tornado area. I've never been in one, but there have been quite a few within a few miles of us.