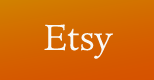 I'm a day late in selecting and publishing a winner for my EtsyGreetings Blog Carnival Giveaway, but I know you're aware that there have been other things on my mind.
Anyway, I'd like to thank everyone who commented -- I had the best time reading your comments! They were very interesting.... and educational. I had thought there might be more of a "favorite" item in the
shop
, but your interests and choices were pretty varied.
I often wonder if my shop is too disjointed -- that I have too many different sorts of things for sale. And I really love it when a shop has a cohesive look to it. But, unfortunately, that's just not how I work. I need to make lots of different things -- it's what makes me happy. And, in the long run, that's one of the main reasons I have the shop. It funds my art/craft addiction, but even more than that, it gives me an outlet for the artwork that something inside of me compels me to produce. And makes me happy.
I've been thinking about opening a new shop, probably to house the hand carved rubber stamps that I make. And that would help a bit. But it wouldn't solve the problem. I can't open 4 or 6 or 8 different shops!
I have hopes that Etsy will someday (soon?) offer more options on how to organize a shop. At this point you can put items in "Sections," but the initial view of the shop shows everything in basically a hodge-podge fashion. You have the option of sorting by price or when the item was posted, but no other way. I'd love to be able to move the items around to make the shop make sense organizationally and to be more pleasing to the eye.
Anyway.... back to the giveaway! I let random.org make the decision.......
..... and the winner is..... #11! (Lana) Congratulations, Lana! I'll be contacting you to get your address. And thanks to everyone who took the time to enter!
Here is your sequence:
11
2
18
13
25
6
3
21
26
28
4
9
16
29
19
24
17
12
14
7
5
10
23
15
22
1
20
8
27
Timestamp: 2008-11-26 00:49:38 UTC